If your company isn't reaching its full sales potential, give us a call.
Let us discover who you are and the many product or service offerings you provide your customers. We'll assess your current sales process and offer new sales and marketing strategy to enhance your bottom line. We'll immerse ourselves in your vision of the company, and show you how MatchPoint's services can be tailored to help you reach your new business sales goals.
We're consultants who do much more than just consult; we learn about your business from the ground up so that we can represent you seamlessly to viable prospects that will help grow your company. Our approach is to become part of your internal team by working on-site with you and your staff. We implement an outreach program to new prospects, nurture the five channels of opportunity™, and assist in customer service with your current clients. We meet with new business prospects to present your company's services, negotiate, and close. We'll even represent your company at networking functions and trade shows.
Our new business outreach program unites prospecting, marketing and sales to work cohesively together to focus on one goal: to bring in new business that's right for your firm.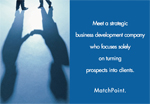 MatchPoint Presentation, Click Here